The Government of India (GOI) has initiated an ambitious infrastructure program focusing on growth. It has 35% y-o-y increase in capex and a proposed infrastructure spend of over Rs 10 lakh crore in Budget 2022-23, Availability of funding from multiple agencies, innovative modes of funding and increased private participation, are some of the factors driving the growth of the infrastructure industry in the country. As a result, infrastructure investments in India are poised for exponential growth. Information Technology (IT) will play an important role in the infrastructure development and e-governance initiatives in India. Through our experience in the infrastructure industry, we are able to leverage our domain knowledge and technology expertise to bridge the gap between the infrastructure industry expectations and available IT products and solutions.
Highbar Technocrat is an end-to-end IT solutions provider to the public sector Infrastructure requirements viz. Roads, Ports, Real-Estate, Airports, Railways, Irrigation & Water supply, telecom and mining. We cater to the IT needs related to the infrastructure sector for a range of government bodies such as central government, state government, local self-government bodies like municipal corporations as well as international agencies.
Business value
We cater to all infrastructure related IT requirements of government bodies through a judicious mix of internal competency development and strategic alliances with leading global IT industry partners. The business value we provide to our government clients are:
We treat an IT deployment as business transformation initiative rather than technology initiative, enabling government agencies to extract maximum business value for their investments
Better monitoring and control enabling improved operational efficiency
With our domain experts experienced to work on government projects, we understand the requirements and can cater to the needs of our clients in better manner
Some of our landmark Government projects
Nagpur Metro Rail Corporation: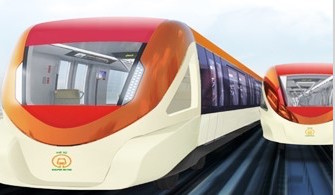 Highbar has facilitated the next generation project management platform especially in metro rail space which consists of 5D BIM (5 Dimensional Building Information Modelling) integrated with SAP ERP (Enterprise Resource Planning) supported by OSO (Owner's Support Office). This is 1st of its kind platform implemented across India for efficient project management at Nagpur Metro Rail Corporation Ltd. This platform is integration of four world class products including SAP, Primavera, Bentley & RIB. SAP offers the enterprise wide core transactional system integrating all business functions & provides business analytics. Bentley's solution provides the engineering drawings in 2D & intelligent 3D drawing formats, Primavera is used for project scheduling and RIB is front end tool which integrates all these softwares seamlessly & provide enterprise wide reporting.
Digital Project Management Platform (5D BIM Integrated with SAP ERP): With implementation of Digital Project Management platform, Highbar has started focusing on Mega construction projects to adopt this platform & consider for efficient project management at respective projects. With implementation of Digital platform at Nagpur Metro Rail Corporation, Highbar has introduced advanced technologies like Open Text ECM, Linear Asset Management, Re-Land, SRM (Supplier Relationship Management),FLM (File Lifecycle Management) first time in India for a linear Mega project. Maha Metro is using these technologies efficiently for the Nagpur metro project.
We have implemented recently Digital Project Management Platform at Nagpur Metro which is formed under Maha Metro a joint-venture of the Govt. of India and Govt. of Maharashtra. Large infrastructure projects like Metro rails normally take 5-10 years because of procedural formalities, technical and financial requirements. Technology solutions are being explored to bring in financial efficiency, time efficiency and reduce spends on such large mega infrastructure projects. With same vision, Maha Metro decided to adopt such digital platform for efficient execution of Nagpur Metro Rail Project. The development of Digital Platform for Nagpur Metro is a pioneering effort – first time happening in India. In line with the global best practices, Maha Metro has adopted this pioneering approach of digital project management on 5-Dimensional Building Information Modelling (5D BIM) integrated with SAP ERP supported by Owner's Support Office (OSO). This platform has now gone live & project team has started using information technology to visualize project virtually and monitor efficiently using 5 Dimensions (intelligent 3D Drawings with Time as 4th Dimension and Cost as 5th Dimension). We have set OSO (Owner's Support Office) for efficient utilization of the digital project management platform. Use of this digital platform will help the metro project in mitigating risk of time & cost overruns, effective document management, quality adherence and effective asset management.
Goa State Pollution Control Board
Highbar has unveiled their remarkable feat to bring in business transformation at Goa State Pollution Control Board (GSPCB) by deploying SAP e-governance solutions. The newly developed e-office was recently launched by Minister for Environment and Forest Mr. Rajendra Arlekar in the presence of former GSPCB chairman Mr. Jose Manuel Noronha and other board officials. GSPCB's vision to accomplish paperless governance came live through Highbar's innovative e-portal "Sustainable Workflow Platform" through which all the approvals will be facilitated online. Helping the board to be more efficient, this major Digital initiative will ensure paperless and transparent governance by leveraging information technology to undo unnecessary delays and the whole office proceedings would be available more seamlessly.
Commenting on achieving this major milestone for operation excellence Mr. Jose Manuel Noronha, Chairman, GSPCB said "It's a proud moment for us as we are the only government department to go paperless after the Legislative assembly of Goa. This initiative is a major leap towards our commitment of making the board more accountable & approachable for the residents of Goa. By discarding the paper-based system we are also doing our part in saving trees from being cut as unnecessary paper use leads to wastage. We are thankful to team Highbar Technologies for their extensive support & handholding to make this dream project come live."