Enable sales teams to spend more time in front of customers, empowered with intelligent recommendations to help win deals. The SAP Cloud for Customer solution helps you manage day-to-day sales contacts efficiently by sending and receiving signals between front- and back-office solutions and providing a single view of the customer.
Sell Anytime. Anywhere
Make every interaction counts on any device. You can engage with your customers in real time, manage your activities, and track performance even when offline.
Better customer experience
Engage and connect with customers in a personal and meaningful way, with instant access to back-office data and a complete view of all customer information.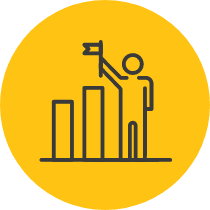 Empower your sales team with intelligent features
Add contacts, update records, and discover new opportunities automatically. Serve as a trusted advisor with Al's recommendations personalized for each deal.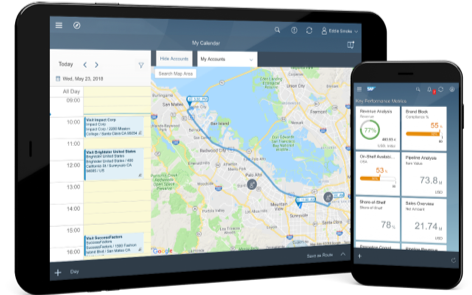 Sales force automation
Assist in the management of lead opportunities, accounts, and territories
Manage quotes and contracts, as well as synchronize customer data between Microsoft Outlook and Google Gmail.
Avoid end-of-quarter surprises with interactive dashboards and embedded real-time customer analytics
Collaborative and connected front and back office
Access back-office quote-to-cash information in real time with native integration with SAP ERP, SAP CPQ and SAP Commissions
Accelerate sales cycles by enabling close collaboration between sales teams internal experts, customers, and partners with built-in- integration to SAP jam collaboration
Field sales and retail executions transformation
Maximize productivity with route optimization and personalized activity plans for each visit.
Optimize store execution and buying experiences with recommendations on shelf placement and product promotion.
Analyze productivity , trends ,and competitive pricing , and define improvement plans
Highbar combines strong domain expertise in your industry with SAP's strong technology backbone, to help your sales force connect better with your customers  and prospects.  Reach out to us for a free first consulting discussion to explore how your organization can leverage intelligent technology to bond better with customers and prospects.